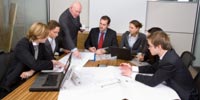 Accreditations
ESOL's breakthrough advance and engineering solutions have been in development for over 20 years:
6 years of proprietary research and development and pilot-scale demonstration, highly recognized and awarded by ASCE (John B. Hawley Award, 1995)
4 years of proprietary development including verification of core engineering advance by Dr. David E. Daniel, P.E. (University of Texas and University of Illinois) and Dr. C. Vipulanandan, P.E. (University of Houston)
8 years of further engineering advancement and continuous review by Dr. Vipulanandan in cooperation with the University of Houston, including:
5 years of proprietary product development including:

1 year field and lab program with independent field and lab testing, and full oversight and verification testing by the University of Houston

1 year software development and testing

6 month testing program with independent review and testing by the University of Houston
Following this development, ESOL's engineering advances and core service tools were tested and verified by the University of Houston, as a 3rd-party accredited institution.