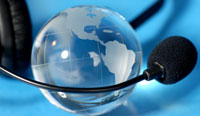 Privacy Policy
EARTHWORK SOLUTIONS, LLC ("ESOL") is committed to fair information practices. ESOL respects the privacy and security of its users. Our goal is to provide you with a personalized Internet experience that delivers the information, resources, and services that are most relevant and helpful to you. In order to achieve this goal, we sometimes collect information during your visits to understand what differentiates you from each of our other users. We will not disclose it to any person or organization outside ESOL, except as described in this Privacy Policy.
To demonstrate our commitment to your privacy, we have prepared this statement disclosing our privacy practices. Here, you will learn what personal identifying information of yours is collected, how and when we might use your information, how we protect your information, who has access to your information, and how you can correct any inaccuracies in the information.
Information We Collect and How We Use It
ESOL collects certain information from and about its users three ways: directly from the user, from our Web server logs and with cookies.
Web server logs:
When you visit our ESOL Web sites, we may track information to administer the site and analyze its usage. Examples of information we may track include:
Your Internet protocol address
What kind of browser or computer you use
The number of links you click within the site
The state or country from which you accessed the site
The date and time of your visit
The name of your Internet service provider
The Web page you linked to our site from
The pages you viewed on the site.
Cookies:
Our Web sites use cookies (i.e., small bits of text that our servers place into a file on your computer's hard drive). This is used to save your preferences and login information, and provide personalized functionality. You can reject cookies by changing your browser settings, but be aware that this will disable some of the functionality on our Web sites.
Personal information users give us:
On our Web site, visitors can register to purchase products or services, receive personalized content and correspond with ESOL. When you register, we will ask you for some personal information.
If you're purchasing a product, we'll request financial information (E.g., What is your credit card number?). Any financial information we collect is used only to bill you for the products and services you purchased. If you purchase by credit card, this information may be forwarded to your credit card provider.
For other types of registrations, we will ask for your name, address, e-mail address or telephone number. We may then contact you with information about other ESOL products and services.
Finally, you may be asked to disclose personal information to us so that we can provide assistance and information to you. For example, we may collect personal information from you (such as an e-mail address, system information and problem descriptions) in order to provide online technical support and troubleshooting.
If you don't want to receive promotional materials from ESOL or our marketing partners, you can opt out at any time. You simply need to update your preferences with each ESOL service to which you are registered. Here's how:
Send an e-mail message to cust@esol.net. Include your name and contact information, and a message saying you'd like to stop receiving promotional materials.
If you have questions about opting out, send an e-mail message to cust@esol.net.
More Details About Information We Collect on our Web Sites
Information about ESOL web site subscribers and their ESOL web site usage is maintained in a secure environment. This information is not shared with third parties for marketing purposes. ESOL does not disclose any information about any subscriber's usage of ESOL's web site, except to enforce the terms of our subscriber agreements or as required by law.
How long is your personal data kept by ESOL?
ESOL will retain your information for as long as necessary to fulfill any purposes of this statement or to comply with applicable legislation, regulatory requests and relevant orders from competent courts.
How We Protect Your Information
Transmissions over the Internet are never 100% secure or error free. ESOL takes reasonable steps to protect your personal information from loss, misuse, unauthorized access, disclosure, alteration, and destruction.
For example, ESOL uses technical security measures to prevent the loss, misuse and alteration of information under our control.
When we ask customers to provide financial information (such as a credit card number) that data is protected using Secure Sockets Layer (SSL) technology.
Who Has Access to the Information?
ESOL will share your personal data in three ways:
As required by law, in a matter of public safety or policy, or as needed in connection with the transfer of other business assets. In compliance with U.S. law, ESOL does not share information with any unaffiliated third parties for marketing purposes unless you expressly ask us to.
With agents and contractors who use it on ESOL's behalf or in connection with their relationship with us. For example, some of the information we obtain regarding your sites may be used in further research we may conduct or ask or retain others to conduct.
We may also share information with trusted business partners. We engage agents and service providers who process data only on our behalf and for our purposes.
Links to Other Companies' Sites
Our Web site may contain links to sites maintained by companies that are not affiliated with ESOL. We are not responsible for the privacy practices or the content of those sites, and we encourage you to use caution when visiting them. In particular, we recommend you view the privacy policy posted on each site.
How to Correct Inaccuracies
If you've registered with our Web site, you can access and update your information online using this link:
Privacy Policy Changes
ESOL reserves the right to modify the provisions of this Privacy Statement if deemed necessary. We will inform you of these changes by publishing the revised Privacy Statement on our Web site.
Questions?
Please send an e-mail message to cust@esol.net or write to ESOL, LLC, 14825 St. Mary's Lane, Suite 121, Houston, Texas 77079 or call (877)-456-ESOL.
Effective June 2009